The NYC co-op and condo closing process is surprisingly easy as long as you have accepted an offer from a qualified home buyer.  Assuming you've worked with a Mont Sky Real Estate agent on your home sale, you've already cleared the toughest part of selling your home in NYC which is properly engaging the 90% of buyers who are represented by agents!
Accepting an offer as a listing agent or home seller
You should request all offers made by buyers or their agents to be professional and standard in nature.  That means the offer email should contain all of the following:
Full legal name of the buyer

Offer level and form of consideration (i.e. all cash, mortgage and down-payment amount)

Timing for the buyer on closing date

Contingencies, if any (i.e. mortgage contingency – needing a mortgage to be able to close)

Short biography of home buyer

REBNY Financial Statement

Pre-approval letter if the buyer will be financing with a mortgage

Proof of funds if the buyer will be purchasing all cash
There are over 50,000 licensed real estate agents in the NYC metro area and unfortunately not all of them will uphold themselves to the same standards of professional conduct we are used to.  Therefore you must ask each offer submitted to contain all of the above so you don't waste your time or the time of your seller client.
This is especially important when you have multiple bidders on a property each with different personal timing circumstances.  For example, you may have a very well qualified cash buyer who may need to know whether their bid is accepted by tomorrow because they have two other outstanding bids on other properties.
Because of the potential consequences of losing that very real bid, you will need to make sure other agents submit a fully documented offer so you don't waste time negotiating with someone who didn't have a serious buyer.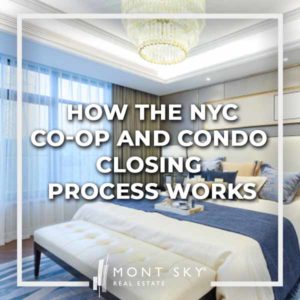 In rare circumstances you may have a serious cash buyer who is adamant not filling out the rather invasive REBNY Financial Statement.  In this situation, depending on how professional and serious the buyers' agent is, you may accept only proof of funds in lieu of the full REBNY Financial Statement.  Proof of funds is usually in the form of a bank statement showing cash deposits in excess of the purchase price.  The fact that the buyer has already transferred so much to sit in cash in one bank account is a testament to the seriousness of the purchaser.
Running a best and final auction as part of the NYC co-op and condo closing process
Congratulations on pricing your property correctly if you've received multiple offers and now need to choose one.  It is common for listing agents or sellers with multiple interested buyers to hold a "best and final" or "highest and best" auction where all interested parties are asked to submit their best bid on a pre-determined date.
The cleanest and fairest way to do this would be to provide no information to any parties except that there are multiple bidders involved who are all being shared the same information.  Some buyers may simply repeat their original bid and some buyers who really want the property and are afraid to lose out really will "put their best foot forward."  It is a great way to filter for the buyers who want it the most.
Alternatively, some sellers will insist on countering each buyer's offer individually and asking their listing agent to negotiate individually.  The seller may then accept an offer from the first buyer who meets the countered price.  This route is more involved and potentially more messy which is why we recommend agents to hold a "best and final" on a certain date known by all parties.
If you feel savvy enough to provide color (i.e. information) to buyers and buyers' agents, you can certainly call them to give them a feel for the competitive process and also get a sense of how hungry each buyer is for the apartment.  Keep in mind, you will be dealing with professional real estate agents in many cases who are very experienced in these situations.  As with all things sales related, this aspect of the NYC co-op and condo closing process is more art than science.
What's next after accepting an offer from a buyer?
In New York City, once real estate agents have matched a buyer and seller, they generally step out of the driver's seat and let the real estate attorneys manage the closing process.  Real estate attorneys are mandatory for both buyers and sellers in a NYC co-op or condo closing process.
In contrast to New York, many other states such as California use standardized closing documents which real estate agents typically prepare on behalf of their clients without ever involving a real estate attorney in the closing process.  In New York City, because real estate attorneys are so involved in the condo and co-op closing process, real estate agents frequently do not even show up on closing day to collect their commission checks (they typically stop by a few days later to pick up their commission checks from the seller's attorney when it's convenient for them).
It's required to have a real estate attorney to manage the NYC condo and co-op closing process because the purchase and sale contract in New York City is negotiable and customizable versus the standard purchase contracts used in other states.
The next step after accepting an offer is for the agents involved to circulate a "deal sheet" to all parties involved.  If you are the listing agent and the buyer is represented by another agent, simply ask the buyers' agent to fill out as much as he or she can and send it to you to fill out the rest.
The deal sheet is a standard Excel file which contains the contact information of all parties involved in the transaction as well as an overview of the deal:
Date and address of the property being purchased

Seller & buyer

Seller's attorney and buyer's attorney

Building management firm

Seller's broker and buyer's broker

Miscellaneous information about the transaction
The miscellaneous information section contains ownership type (i.e. co-op or condo), corporation or condo name, shares / % common elements owned, inclusions and exclusions, storage, closing date, purchase price, maintenance / common charges, real estate tax, assessment (if any), flip tax, financing (contingent, non-contingent, cash), amount to be financed, days to obtain loan commitment, occupants of unit, pets and broker commission.
In the broker commission section of the deal sheet it is only necessary to state the commission payable to the buyers' agent (i.e. 3% commission to Mont Sky Real Estate).  This is because the seller already has an exclusive listing contract with the listing broker stating commission owed and the seller's attorney will typically be issuing the commission checks.  Therefore, it is mainly the buyer's agent who will want to see in writing the commission that he will be paid (despite the listing broker already contractually being obligated to co-broke the buyers' agent commission amount in RLS).
After the deal sheet has been circulated, the seller's real estate attorney will begin drafting the purchase and sale contract.  The buyer will typically have deference to the seller on timing and it is usually the seller who demands a quick close.  This situation can be reversed if the seller is desperate with a property that has sat too long on the market and the buyer is an opportunistic all cash vulture investor who is willing to walk away.  Once the seller's real estate attorney has sent the purchase contract to the buyers' attorney, your listing status is "contract out" but not "in-contract" yet as it hasn't been mutually signed.  Sellers will typically give the buyer a certain time limit to sign the contract so as to not waste time with an uncommitted buyer.  When markets are really strong, sellers have been known to send out contracts to multiple buyers to encourage even more competition.  However, this method may be deemed unprofessional in some circles and is generally inadvisable at Mont Sky Real Estate.
At this point in the process, you should encourage your buyer or seller client to consult their attorney about the remainder of the closing process.  You should let them know that the "unauthorized practice of law" is strictly prohibited by real estate agents according to real estate licensing laws.  This means they should work closely with their attorney as the purchase contract is negotiated.  You should not be making any edits, changes or suggestions on the contract and a good real estate attorney would not permit you to do so anyway.
Who holds onto the good faith deposit in a NYC co-op or condo closing process?
Also called an "earnest money" deposit, a good faith deposit is typically 10% of the contract sale price payable by the buyer and held by the seller's attorney in escrow.  The good faith deposit can be written in the form of a personal check and is meant to demonstrate the seriousness of the buyer and to encourage the seller to stop showing the property.  The good faith deposit is included with the purchase contract after it has been signed by the buyer.
When does the home inspection happen?
The buyer will typically request a standard inspection of the property by a licensed home inspector after the deal sheet has gone out. The home inspector will want to also see the common areas (i.e. roof, boiler room, etc.) if it is a condo or co-op.
When does the final buyer walkthrough happen?
The buyer may request to see the property again after the offer has been accepted.  The buyer and/or the buyers' agent will do a final walkthrough typically the day before the closing to make sure nothing has changed in the apartment.
Who typically attends the closing?
The typical NYC closing will involve multiple parties representing the buyer, seller and bank if there is a mortgage involved.  It will typically take place at the seller attorney's office if it is a condo, and at the co-op building management's office if it is a co-op.  Expect to see the buyer, seller, buyer's attorney, seller's attorney, bank's attorney and the closing coordinator on that day.