It's important to realize that buyers can access almost every listing available through popular real estate search websites such as The New York Times, Realtor.com, Zillow, Trulia or StreetEasy.
Moreover, the search functionality on some of these sites is extremely effective such that buyers can receive saved search alerts whenever a new listing that matches their criteria hits the market. Buyers also have the ability to search by drawing a boundary on a map such that they only see listings in the exact area they want.
So why do buyers even need a buyer's agent?
Convenience. It doesn't hurt that having a buyer's agent is free for the buyer either.
Most New Yorkers are busy working professionals. So even though you could search entirely on your own and coordinate all of your own showings, it'll still take a reasonable amount of your time and you'll be flooded with emails.
Furthermore, you'd be revealing your contact information to lots of hungry listing agents who will be bound to follow up with you incessantly!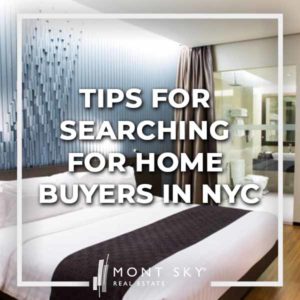 Therefore, most New Yorkers end up searching with a trusted professional who will know exactly what they're looking for and cherry pick listings to show them.
It saves them time and energy, and who would turn down the opportunity to be led around on a guided, open house tour on Sunday? Most working New Yorkers can't be bothered to do anything outside of work during the week anyway, so the idea of just being able to show up on Sunday to be led on a curated property tour is very attractive.
Furthermore, it doesn't hurt that buyers can use their agent's contact information should they want to casually stop by a few open houses by themselves. This prevents solicitation and calls from listing agents immediately since you're already represented.  The listing agents will automatically follow up with your buyer's agent instead.
Don't overwhelm buyers with too many ideas
A common rookie mistake new agents make is to send every available listing that matches to the buyer.
Depending on how broad the search criteria is, this can result in dozens of listings being sent to the poor buyer! If the buyer had wanted this service, they would have just searched online by themselves!
Remember, the buyer just wants to give you a quick rundown of exactly what he or she is looking for, then hopefully you will be back with only ideas that exactly fit!
So even if the buyer has a broader set of criteria, try to curate them as best as possible and send no more then 3-6 ideas on your first batch. Try to add a sentence or two about each listing to show that you really picked them out for your client.
Make sure listings are available before you send them
If a property is listed as "in contract" then it's definitely not available as a purchase contract has been fully executed by both buyer and seller. What if it's not listed as "in contract" though? Does that mean it's available?
Definitely not. As of this writing, listing updates in RLS (REBNY Listing Service) are not strictly enforced vs the MLS broker databases in other parts of the country. Even though listing brokers can be fined per REBNY rules for not updating a listing's status within 1 business day, these rules are not policed and rarely if ever enforced.
As a result, listing brokers are incentivized to make a listing appear as "still available" for as long as possible as a way to generate additional buyer inquiries.
This means if you simply screen for listings that are not already "in contract" and send them to your buyer, they might get excited over a listing that is already long gone!
There is no easy way to determine whether a listing already has an accepted offer, a contract out, a signed contract by the buyer or whether it was "just" counter-signed by the seller without asking the listing agent.
This means you should ideally double check with the listing agent on whether a listing is still available before you send it to your buyer.
"Hi Mark, great listing! May we ask if it's still available? When are you showing it next? Looking on behalf of a serious, pre-approved buyer who's in town.  Thank you!"
Registering buyers for open houses
If a buyer wants to see a property that has an open house scheduled, you can simply "ship" them to the open house.
That means it is acceptable for the buyers to attend the open house un-escorted by you. While not required, you should still give the listing agent a courtesy heads up and "register" your buyer for the open house.
Keep in mind that it may be advantageous for you to attend the open house with your buyer anyway, especially if you are able to organize many open houses and private showings as part of a tour for your buyer.
Even if it is a single open house that they are visiting that day, it may still make sense for you to attend if only to meet and build rapport with your client. This is especially important early on with a buyer to build trust and loyalty.
Remember that buyers are free agents and there are no exclusive agreements with buyers to tie them to you!  They could meet another agent they like and start searching with them instead or concurrently!
Private showings
Once you've found a listing that the buyer wants to view, you can request a private showing on behalf of your buyer if no open houses are listed. Since you'll be requesting the listing agent's time to show up at the property, you need to emphasize to the listing agent that you have a very serious buyer.
Most listing agents will not be down for agent only client "previews" and may push back if you are a newer agent they don't know or if they sense you have a buyer that is very early stage and just "shopping."
Getting color on listings
A great way to add value and save time for your buyer clients is to simply call the listing agent to get some "color" on the listing. This means asking if it's still available, why it's been on the market for so long if it's an aged listing, why it fell out of contract if it did, and whether there are any offers or if the seller is willing to negotiate the list price.
Keep your written correspondence professional
It's super important to have perfect grammar, punctuation and spelling when emailing clients. This is even more important for your first interaction as the client doesn't know much if anything about you besides the email you have just sent. Therefore, when sending listings to emails, make sure to meticulous in proofreading your message before it is sent. Make sure the fonts are all the same size, style and color when appropriate.
Tip: Try to keep the intro for your listing ideas email short and to the point. End them with open-ended questions so that the client feels compelled to respond. These questions should either try to engage the client to see a listing or to find out more information about the client.
"Hey Martin, what do you think about these listings we picked out for you?  Are you free to go see some places this weekend?  Is 125th Street too far north for you?"