Verified buyers and sellers
Mont Sky® is the only brokerage firm that offers both buyer and seller leads and referrals through our proprietary lead generation platform.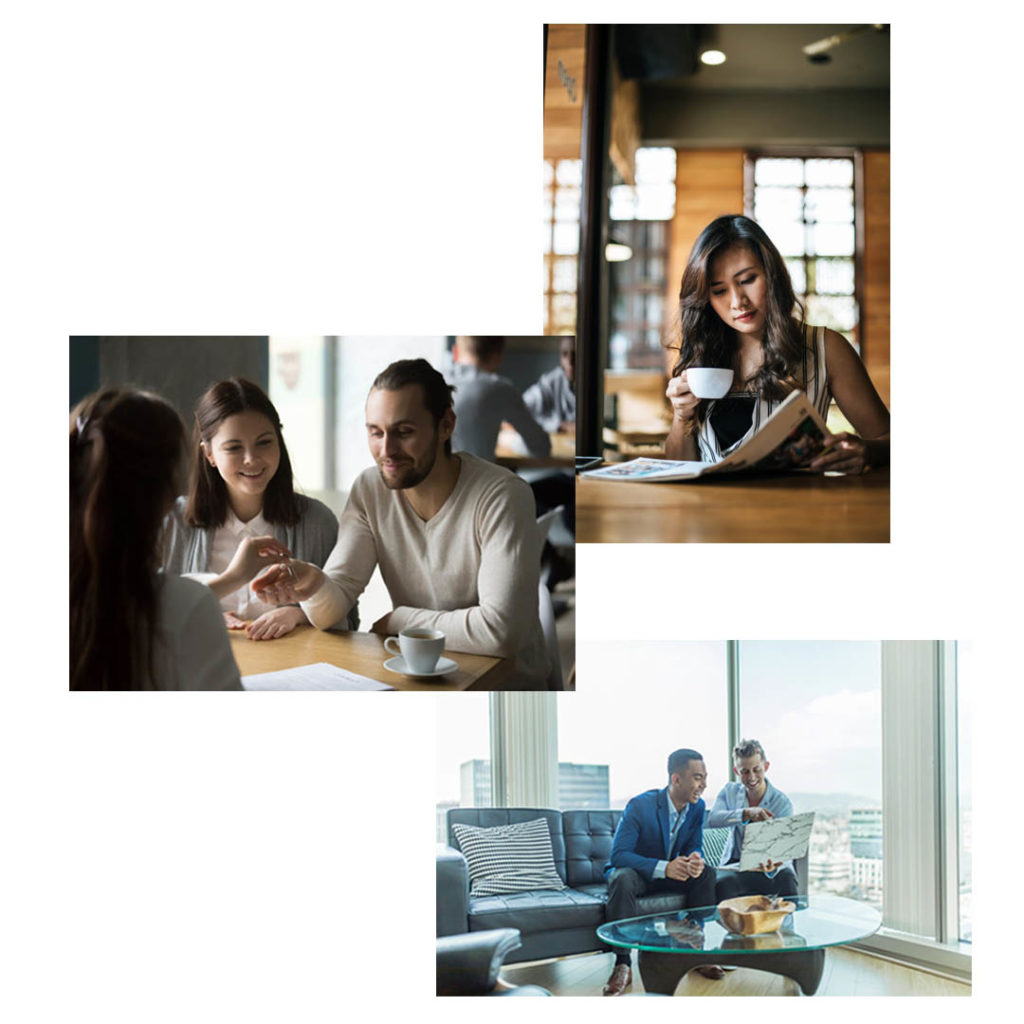 It's time for change
What's the point of joining a brokerage that doesn't offer you leads or referrals? Let's face it, you didn't become an agent just to take advantage of free coffee, fun apps or someone else's corporate branding.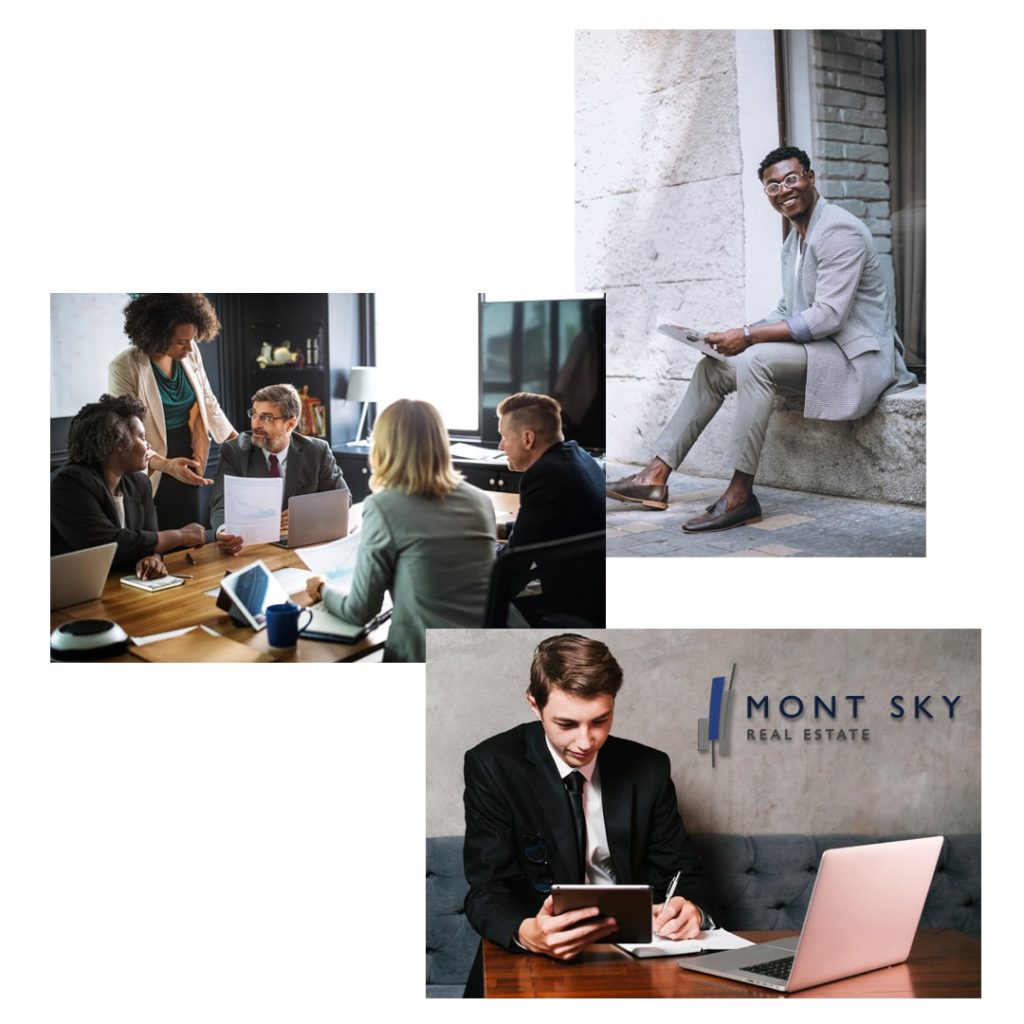 What's the point of joining a brokerage that doesn't give you something to do?
Professionalism. Competence. Respect.
Up to 100% commission split
NYC agents on our 100% commission split plan will receive exactly that – 100% of every commission dollar earned. We don't believe you should have to share your winnings with your managing broker just because he or she is, well, your managing broker.
Verified sales and rental leads
Experienced agents will have full access to our proprietary lead generation platform which puts you in touch with real buyers and sellers. Once you receive a lead, we'll expect you to take it from there. New agents can partner with senior agents on leads.
No hidden desk or monthly fees
Our agent plans are simple and straightforward without any hidden transaction fees, desk fees, software fees or any other fees or fine print. Keep 100% commission for $399/month or keep 75% commission for $129/month.
Access to NYC's REBNY Listing Service (RLS)
We're a Member Firm of REBNY which means you'll have full access to the RLS so you can offer your buyer and seller clients full exposure to the New York City metro area real estate broker community.
Private RealtyMX account for CRM, listing syndication and search
You'll receive a personal RealtyMX account upon joining the firm. It'll allow you to syndicate listings under your name, search the REBNY RLS, set up automatic search alerts for clients, automatically create show sheets and more.
All REBNY member benefits and rewards
We are a REBNY Member Firm, and as a member of our team you will receive full access to the REBNY community, benefits, events and discounts. Welcome to the largest real estate association in New York City!
Errors and Omissions Insurance included
All our agents receive complimentary & automatic Errors and Omissions insurance included with membership with the firm. Unlike other brokerages where you'd have to pay for this on your own, we've simplified things by making it all inclusive with your dues.
Private corporate email and mobile friendly tools
Our agents benefit from private corporate email accounts as well as cloud storage, secure messaging and free e-signature software. No required floor time plus our suite of mobile friendly tools means you'll never have to step into the office, unless you want to.
World class training and in-house operational support
We offer our agents comprehensive, real world training ranging from our online courses and training videos to in-depth classroom sessions taught across the city. Plus, our team of executive assistants are never more than a message away should you need help.
Keep 100% Commission
$399/month
Keep 100% of commissions from your independently sourced and executed deals. Benefit from our full suite of agent tools and services. Best for agents who close 2 or more deals per year by themselves.
Keep 75% Commission
$129/month
Keep 75% of commissions from your independently sourced and executed deals. Benefit from our full suite of agent tools and services. Best for agents who close fewer than 2 deals per year by themselves.
Frequently asked questions
What if I'm not licensed yet?
You'll need to be licensed in order to work with us. Fortunately, getting licensed as a real estate salesperson is relatively easy. Please take the following steps and sign up with us once you've passed your state exam.
Step 1: Complete a 75 hour New York State approved class
Although getting your real estate salesperson's license in New York isn't too difficult, you absolutely must be licensed in order to become a real estate agent in NYC.  The first step is to find a New York State approved real estate course to fulfill your mandatory 75 hours pre-licensing education requirement.  You can often take this course online at your own pace for under $100. For example, realestateu.tv offers an excellent online curriculum that costs under $100 with coupon code NYC10. However, some may find it helpful to attend a more structured, in-person course and to be able to network with others looking to become a real estate agent in NYC.
Step 2: Pass the New York State Real Estate Salesperson Exam
This written exam is multiple choice and 90 minutes long with a minimum passing score of 70%.  You must schedule your appointment online by first creating an eAccessNY account.  You must bring with you to the exam a valid, current, government issued photo ID along with a print-out of the "Summary of Your Submission" confirmation page from eAccessNY.  After the exam you will be able to view your score on eAccessNY.
Exam Site Policies
Calculators are permitted if they are battery or solar powered, silent, nonprinting and do not contain an alphabetic keyboard. PDA's are not allowed.

Cellular phones, beepers and any other electronic devices MUST be turned off during the exam.

Dictionaries, books, other reference materials, large bags and briefcases are not allowed at the exam site. Do not bring these materials to the exam site as there is no place to store them.

Eating, drinking or smoking is not permitted at the exam site. If you bring food or beverages, you will be asked to dispose of them before entering the exam site.

Visitors, guests and children are not permitted at the exam site.

Any person found using notes, books, or other aids; giving or receiving help; removing examination materials or notes from the exam site; causing a disturbance or engaging in practices contrary to the rules of proper examination conduct will be dismissed from the exam site. Any decisions regarding disciplinary measures will be made by the Exam Supervisor at the Department of State.
The New York City exam location is currently 123 William Street, 2nd Floor, New York, NY 10038.  You should schedule your exam at least 2 weeks in advance if you're looking to become a real estate agent in NYC and 1 week in advance for the rest of New York.
Step 3: Find a sponsoring broker to work with
The most important decision for someone looking to become a real estate agent in NYC comes down to deciding which brokerage to work with.  As you'll learn from your real estate licensing course, a real estate salesperson must work under the supervision of a licensed broker.  It is illegal for any salesperson to receive compensation from a client directly; rather, the real estate commission must be paid to the licensed broker or brokerage.  The salesperson will typically work for a brokerage under an independent contractor agreement and be paid by the brokerage according to the commission split they've agreed upon.  You will have to choose a brokerage based on a variety of competing factors: what you want to specialize in (commercial, residential, sales, rentals or leasing), the commission split, tools, leads, marketing and support.
Residential Sales
We specialize in residential sales at Mont Sky and provide you with free leads and best-in-class technology to ensure your success.  Residential sales commissions average 5-6% in New York City, with half typically being split if there is a buyer's agent involved.  With average property values of $1.73 million that equates to just over $100,000 for the typical real estate commission check.
Residential Rentals
Agents starting out often prefer to work on rentals because they are typically quicker and easier to close.  However, the commission is typically much smaller at 15% of total annual rent. Agents are free to pursue rentals at Mont Sky and utilize our best-in-class search, CRM and listing syndication software through Nestio.  Through our partners at Nestio, we have access to a live, proprietary database of rental listings directly updated by thousands of NYC property managers so that our agents often see new listings long before anyone else.
Commercial Sales and Leasing
Commercial ranges from Class A trophy skyscrapers in Midtown Manhattan to any residential real estate with greater than 4 units (apartment buildings or multi-family properties).  These type of transactions are more specialized than your typical residential sale and usually require more experience.  There is no standard commission for a commercial deal and fees are negotiated on a case by case basis.  We are building a world class, international commercial real estate team at Mont Sky.  With proprietary deal flow from China to the Middle East, Mont Sky is well positioned to take a leading role in the future of the real estate capital of the world – New York City.
What kind of training do you offer?
New agents can take advantage of our online training curriculum at their own pace and partake in complimentary in-person and virtual classes taught by our lawyer, mortgage and title insurance partners. Most classes are eligible for Continuing Education (CE) credit.
Are there mentorship opportunities?
Yes, new agents can opt-in to our Mentorship Program where they will have the opportunity to shadow and receive advice from a more tenured agent on the team. You can designate a mentor when you e-sign your independent contractor agreement. If you are not happy with your choice of mentor, you can always terminate your relationship by sending your mentor an email and copying management at team@montskyrealestate.com.
New agents often choose as a mentor the senior agent who recruited them or whom they spoke with during their introductory call. If you haven't selected a mentor yet, you can do so simply by calling our front desk at (646) 397-8508 to speak with one of our team members, or you can reach out directly to an agent of your choice here.
Are there any required office meetings?
No. We do not believe in required meetings, mandatory weeks of orientation, or daily floor time. Furthermore, due to COVID-19 and local restrictions, we no longer have in-person meetings nor do we offer physical office space. You'll find that every aspect of being a real estate salesperson can be done remotely or even on the go.
Do you accept part-time agents?
Yes. We are one of the few firms that welcome agents who have other jobs, gigs or businesses. In fact, we think having one foot in another industry not only broadens one's network, but also one's perspective. Plus, it doesn't hurt to have another source of income since your earnings are entirely commission based in real estate.
Which plan should I choose?
We recommend the 75% split plan for most agents, and especially new agents, due to the lower monthly fee and the ability to participate in company sourced buyer and seller transactions. In fact, most of our agents are on the 75% split plan.
Can I switch plans after joining?
Yes, agents are allowed to switch the plan they are on with six months' written notice. This notice period ensures that agents are only switching for bona fide reasons, as it wouldn't be fair for example if an agent upgrades to the 100% plan just before they close on a deal they sourced themselves.
How are referrals allocated between agents?
Company sourced leads and referrals are offered to our team in our secure, team messaging channel which you will have access to upon joining, and sometimes directly to agents based on best fit. When more than one agent indicates interest in a transaction, management will take many factors into consideration (i.e. current workload, proximity, experience, client preference etc.) when assigning an agent.
How vetted are your leads?
We don't believe in handing our agents cold leads to call. The transactions we source are typically potential buyers or sellers whom we've already spoken with, who have proactively reached out to us or our sister companies or who are repeat clients. Often times customers will have already signed an agreement with us by the time that an agent on our team is introduced as the main point of contact.
Do I still need to source my own clients?
It depends on whether you intend to make real estate your full-time career or something you do part-time. If you wish to rely on real estate commissions as your primary source of income, then we highly recommend that you have a plan on how to source your own clients so you can take advantage of our high commission splits for your independently sourced and executed deals.
However, some agents may wish to only participate in real estate part-time or have other streams of income. If this is the case, then it's also perfectly acceptable to work only on company sourced transactions when you are up for it.
How often are leads handed out?
Leads are generated by our propriety lead generation platform and our affiliated companies. The volume of inquiries we receive depends on market conditions and seasonality, and can fluctuate from week to week.
There will generally be activity every week, but we are unable to forecast how many sellers and buyers decide to sign up with us at any given time. As a result, if you intend to make real estate your full-time career, then we highly recommend having a plan on how to source your own transactions.
How do I get started?
If you'd like to speak with someone on the team before joining, please give us a call or schedule a time to speak with an experienced agent on the team using the online calendar on this page. Otherwise, take the next step by selecting one of the above plans and e-signing the independent contractor agreement on the next page. After you've e-signed the agreement, you'll be directed to another page with immediate next steps. Welcome onboard!
What is your sponsoring broker license number?
If you've passed the state exam and wish to apply for your license first, you can do so online on eAccessNY. You'll need to submit a sponsoring broker license number in order to apply, for which you can use 10491206002 which is the license number of Mont Sky Real Estate LLC. Please let us know after you've done this so we can "Authorize Initial Salesperson License" online from our eAccessNY account.
Are there any startup costs?
No. We do not charge our agents any startup fees or any other hidden fees. Your agent dues are due every 30 days, at the beginning of the period. However, there are some other costs of becoming a new agent in NYC to be aware of.
First, you will need to pay an initial license application fee ($55) to the New York Department of State. Your license will be active for two years and can be verified in eAccessNY.
Second, you should join REBNY as a residential salesperson ($325) within 90 days of associating with a REBNY Member Firm per REBNY rules. This is your personal membership which travels with you should you change firms and is paid directly to REBNY.
When will I receive my license pocket card?
Please allow up to 6 weeks to receive your license pocket card. The Department of State will mail it to our office shortly after you associate with the firm, at which point we will forward it to the physical mailing address you specified in the Independent Contractor Agreement.
Please keep in mind that you are not strictly required to have the pocket card in your possession in order to start working with clients and attending showings. This is because it's not standard practice in NYC to be asked to show your pocket card when showing homes. If a management company or building reception happens to ask, you can simply present your government-issued ID as an alternative and, if not deemed satisfactory, demonstrate that your license is active by directing them to the publicly accessible record on eAccessNY.