Selling an Apartment in NYC?
To take maximum advantage of today's seller's market in NYC, it's important for you to entrust your home sale to a firm which knows the market best.
Our marketing strategy and market intelligence supports your listing with the competitive edge necessary to maximize your sale price and compete against other listings.
Mont Sky's seller representation service consists of the following steps:
1. Price your apartment
Intelligently pricing your listing is one of the most challenging yet important steps of the NYC home sale process. Going to market with the right price on day one could make the difference between a bidding war complete with an expedient sale or a slow, arduous and potentially unsuccessful home sale attempt. Placing your home on the market with a low price may result in the following outcomes:
Attracting low-quality, 'vulture' or professional buyers

Prematurely selling your home for a below-market price
Conversely, if you price your home too aggressively you run the risk of:
Being viewed as unrealistic/unapproachable by buyers and buyers' agents

Scaring away and or discouraging genuine buyers as a result of the above

Failing to sell your home because you've scared away or discouraged your buyers from even contacting you in the first place

Helping competing listings by using yours as an example of an overpriced listing
Furthermore, the truth is that even in today's seller friendly NYC property market, home values are constantly in flux and affected by a myriad of factors including available inventory, intricacies of your specific unit as well as macroeconomic factors such as foreign exchange rates and the current interest rate environment.
Mont Sky understands the importance of a NYC seller's initial listing price, and therefore we employ a highly methodical and focused approach to pricing your listing. Our Comparable Market Analysis of your home incorporates the maximum number of real estate market variables which influence the value of your home.
Comparative Market Analysis
What is a Comparable Market Analysis?
Mont Sky employs a Comparable Market Analysis for all of its clients, including both home buyers and sellers. The CMA itself is the process of analyzing your home alongside comparable or similar properties which are on the market, pending, in contract, or recently sold in the past 3-6 months. The goal of this analysis is twofold. First, the CMA helps you understand how your listing compares to similar units and consequentially how you should price it. Secondly, the CMA identifies the listings against which you will be competing and helps us market your property accordingly.
The units which we compare against your property generally feature many characteristics which are similar to those of your own apartment, including location, unit type (condo or co-op), square footage, renovation status and property features such as building amenities, interior fixtures, natural sunlight, orientation and much more.
While no method will guarantee that a property will sell at its highest possible listing price, we believe that our Comparable Market Analysis provides the strongest, most methodical estimation of an optimal initial listing price because it factors in real data and highly relevant comparable properties which have recently been on the market.
What are the steps you take when conducting my Comparable Market Analysis?
To begin the CMA, the Mont Sky team will conduct a viewing of your unit in order to most accurately understand the feel and true essence of your home and facilitate a more insightful comparison against other units. Keep in mind that at this stage there is no need for your apartment to be in a perfect showing-ready condition.
CMA Step 1: We identify comparable properties recently sold or on the market
After viewing your apartment, we are now best placed to conduct market research to identify the most comparable units to your property. We utilize both broker-only RLS data feeds as well as public records (NYC ACRIS database) in obtaining the requisite information. Since all NYC REBNY agents are mandated to expediently submit closing price data into RLS, this is a highly powerful resource which we leverage to the fullest extent. Public records, while still valuable, are often delayed up to eight weeks and thus less useful when compared to the more recent information offered to us by RLS. In selecting comparable units, we look for the following factors:
Your home's neighborhood
It goes without saying that the most relevant comparable properties are those which are located in the same neighborhood. However, nuances of your home's location in a particular neighborhood do affect the marketable price per square foot. For example, the Upper East Side is not a completely homogeneous neighborhood of NYC. Until the Second avenue subway is built, properties which are located further West and closer to the 4 5 6 Subway line will almost always trade at a premium.
Unit type (condo vs. co-op)
NYC is home to the vast majority of the nation's co-op apartment buildings. Given the different legal ownership structure and higher maintenance charges levied by a co-op compared to a traditional condo, the former will almost always trade at a discount to a NYC condo.
Square footage and apartment layout
Not all square footage numbers are created equally. An apartment's layout is also critical in determining the value of a unit's square footage. If an unusually high percentage of a condo's square footage is wasted by hall space or a poorly designed layout, you can expect this unit to trade at a discount to another property with the same square footage.
Renovation status
Has your unit recently undergone a gut renovation or other renovation? The current condition of a unit can have a drastic impact on the marketable price per square foot as well as the monthly rental rates. As of November 2015, an un-renovated Soho studio apartment may rent for $2400 compared to over $3000 for an identically sized yet renovated unit in the same building. Both a buyer looking to live in your unit or an investor would be keen to pay an additional (fair and reasonable) premium for a gut renovated apartment.
Building risk
The age, construction style, expected future maintenance outlays, and finances of your unit's building are also important factors that must be accounted for. If, for example, a recently sold unit was in a building that has a high percentage of sponsor-owned units or a low percentage of owner-occupiers, we would expect this unit to have a below-market price per square foot given the difficulty a buyer would face in obtaining a mortgage in this building.
Apartment style
Given the number of unique buyers and neighborhoods in NYC, it's understandable that each type of residence has a different target buyer clientele. For example, the target buyers will be different for identically sized apartments in Chelsea with one being an open loft live/work style unit and the other being a more traditional white-glove NYC pre-war apartment.
Once we've identified comparable units, we will calculate the average, minimum and maximum price per square foot in the data set and attribute the specific variation in each unit's sale or listing price to a set of specific factors which may include some of the above.
CMA Step 2: We make pricing adjustments to account for the unique features of your unit
After coming up with our base-case price per square footage of the comparable property set, we will then adjust the sale price upward/downward to account for the specific features of your unit.
Examples of features that we will adjust upward for:
Has your unit recently undergone a renovation?

Is your building particular close to express trains or a major subway line?

Does your unit have a balcony, terrace or other access to a nice outdoor space?

Are you on a high floor with a particularly advantageous view?

Does your building have lots of natural sunlight?

Is your neighborhood undergoing any major improvements?

Does your home feature ample closet space
Examples of features that we will adjust downward for:
Outdated features or fixtures

Suboptimal floor plan layout

Lower floor

Poor view or lack of natural light

Below-average owner occupancy rates in your building

Essential building or unit repairs required

Poor building performance history
CMA Step 3: We calculate your optimal listing price
Once we've made pricing adjustments to account for the differentiating factors of your NYC home, we will then calculate an optimal listing price and submit it for your review. Ultimately, the price we will go to market with may not directly match the price we calculated during our Comparable Market Analysis exercise. Other factors, such as general economic trends as well as input from you, the seller, may ultimately sway your asking price marginally higher or lower than what we calculated originally through the CMA.
General Macro and Micro Market Real Estate Market Analysis
Macroeconomic Analysis
Aside from pure comparable property analysis, another major factor which influences what price you should go to market with is the general macroeconomic environment. While these factors cannot be as easily quantified, they can have a real impact on the attitudes of buyers at the time an offer is being made as well as during negotiation and closing. Such factors influencing NYC's real estate market may include:
Interest rates – How affordable are mortgages right now? When and how will the Fed's decision to raise rates impact the affordability of NYC real estate through more expensive monthly financing payments?

Mortgage underwriting standards – Are bank underwriting standards becoming more or less strict?

Unemployment rate – Has the economy turned down in the past quarter, or have monthly wages started falling?

Equity markets – How have domestic and international equity markets performed recently? If markets have been more volatile recently and indices have trended down, will this diminish the appetite for NYC real estate?

Foreign exchange rates – How is the US Dollar (USD) performing versus the currencies used by international buyers of NYC real estate?
Microeconomic Analysis
Most critically, our relationships with the NYC real estate community afford us with real-time insight into the conditions affecting the local market. We keep an eye out for changes to market sentiment, fluctuations in available inventory and seasonal changes. We also look to answer the following questions:
Time on the market – How long are homes staying on the market, and is this trending upward or downward?

Level of buyer inquiries – Is perceived buyer demand trending upward or downward?

NYC real estate regulation – Are there any potential or current political or legal actions being taken by New York City or the state which will slow down the real estate market?

NYC economy – How is NYC's economy performing relative to that of other major cities in the United States?
We align our approach to your home sale with your goals and expectations
No pricing analysis is complete without direct input from you regarding your personal goals and motivations as a seller. Beyond the stated desire to sell, we need to have a complete understanding of your rationale for selling and any influencing factors so that we may account for these directly, through our pricing strategy, and indirectly, through the way we present the property to potential buyers and buyers' agents.
If, for example, you recently bought a new unit or are planning on moving across the country and require an expedient sale, we will factor your views into both the listing price as well as our approach to the market.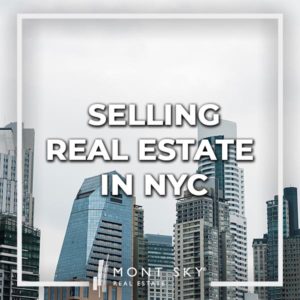 2. Prepare and execute a comprehensive marketing plan for your listing
Once the Comparative Market Analysis is complete, the team at Mont Sky will then work with you to prepare a customized marketing plan specific to your home and situation.
Our marketing plan will include the following features:
Professional Photos

High-quality, Custom Floor Plans

Custom Marketing Materials

Maximum Listing Syndication

Direct engagement with our network of buyers and buyers' agents

Outreach to the entire NYC real estate community

Open Houses and private showings

Comprehensive Marketing

Regular Communication
Professional Photos
The age old adage that first impressions matter is especially relevant when you are selling a home in New York City. Today's market is characterized by short supply, so properly marketed properties often benefit from bidding wars which result in sale prices being at or above asking price. The market's first impression of your listing on day one can be highly influential in determining the level of recurring interest throughout the process as well as your chances of benefiting from a bidding war. Statistics prove that professionally photographed homes sell both faster and for a higher price.
Therefore, all Mont Sky listings benefit from professional photography prior to being put on the market. We want your listing's traffic on day one to spike and make buyers fall in love with your unit. As a first step, our professional photography team will visit your home and spend a minimum of one hour capturing your home from the most attractive angles and optimal lighting conditions using DSLR technology. All of our listings' photos are also digitally edited and retouched prior to receiving the green light to be added to your listing.
Our complimentary professional photography includes:
Minimum of 1 hour on site

Up to 20 professional photographs

Professional lighting

Digital editing and retouching

Interior and exterior photography, including terraces and decks

Delivery of finished product to your listing agent within 1 business day
In addition to creating the best first impression, our photography creates a lasting impression. After attending your listing's open house or private showing, a buyer may revisit your online listing. High quality photos will help solidify your buyer's positive impression of your listing and keep him or her engaged as a potential buyer.
Professional Floor Plan and Marketing Materials
Having a professional floor plan readily available for your buyers is also a critical requirement for generating the most interest throughout the real estate community. It's through a floor plan that interested parties can help imagine whether or not the apartment is the right fit in terms of current layout or a future reconfiguration.
Prior to your first showing or open house, your agent will also develop marketing materials for your apartment, including:
Property flyer / show sheet

Building policy & FAQ information sheet

Arrange for building financing pre-approval with major mortgage brokers and lenders
Maximum Listing Syndication to Direct Buyers and Buyers' Agents
When it comes to getting your listing in front of unrepresented buyers as well as buyers' agents, we don't take any chances. Mont Sky utilizes the most advanced listing technology on the market which syndicates your listing to dozens of the most relevant and widely used real estate websites as well as the city's broker databases used by buyers' agents to find suitable apartments for their clients.
Furthermore, each of our listings is offered a fully customized and dedicated website to help maximize your marketing reach and effectiveness. Your listing will also be featured on YouTube, Mont Sky's website and circulated throughout our in-house client network.
Here are just a few examples of where your listing will end up:
REBNY's RLS Database


The Hudson Gateway MLS

The New York Times

Agorafy

Realtor.com

Homes.com

Naked Apartments

Hotpads

Zillow

Trulia

StreetEasy

YouTube
Comprehensive Marketing
In addition to professional syndication of your listing throughout the real estate community, your Mont Sky agent will also market your home in the following ways:
Direct promotion of your listing to the 50,000 strong NYC broker community to build interest

Engagement with Mont Sky's direct network of buyers

YouTube marketing campaign

Social media marketing campaigns
Open Houses and Private Showings
Once your listing is on the market, your Mont Sky agent will conduct a series of weekly, catered open houses. At each open house, we will capture and log the details of all attendees (buyers and buyers' agents) in order to facilitate an active follow-up dialogue with all parties. We will also encourage fellow brokers representing buyers to attend these open houses in order increase their focus on your listing.
We will also hold private showings upon request for interested parties.
Weekly Communication
In addition to maintaining ongoing dialogue, your Mont Sky listing agent will more formally provide you with a weekly summary report of the latest developments with your listing. This will include open house reports, summaries of new and ongoing buyer leads, as well as both buyer and broker feedback on your property.
3. Negotiate with Buyers and Close your Sale
Once the marketing plan has commenced, you will likely be in the fortunate position of having some real interest and potentially a few offers to choose from. Your Mont Sky agent will work with you to identify the most attractive offers based on the quality of their offer package (including offer price and strength of their financing package). We will also save you time by attempting to screen out buyers whose applications are not likely to pass the co-op board requirements before beginning this lengthy process.
As soon as you've selected a buyer, we will work with the buyer's attorney as well as your own in order to prepare and circulate a deal sheet. Thereafter, we will help the buyer prepare his or her board package and also maintain close communication with the financing bank in order to schedule an appraisal and complete the loan underwriting process. Finally, Mont Sky will work with the buyer to optimally prepare him or her for the board interview if you are selling a co-operative apartment.
Once your buyer has been approved by the board and a closing date has been scheduled by your lawyer, your buyer will perform a final walk-through / inspection of the unit. At closing, your attorney will present you with the requisite list of documents for you to review and sign. After signing the documents and receiving confirmation from the buyer's bank that the loan has been funded (if he or she is financing the purchase), your home sale will officially be 'closed'.